By Diane Testa, PhD: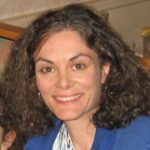 Apple season here in New England yielded an abundant harvest this year. But this year, consumers have a new apple option in supermarket bins: GMO apples. Genetically-modified organisms, or GMOs for short, look the same, taste the same, and smell the same as conventionally grown produce. A GMO apple's main difference is that the cells of the apple have been altered in a laboratory whereby in most cases it contains genetic information from another organism. The developers of this technology claim these alterations lead to better crop yields or larger produce by killing off pests and weeds. However, in order for these effects to take place, large amounts of pesticides and herbicides must be sprayed on the plants and trees for the GMO technology to have its full effect.
One popular GMO herbicide is Roundup, but despite its popularity, many researchers have serious concerns with its potency as a chemical trigger for disease. When someone eats a GMO food, researchers have found that the main chemical in Roundup, called glyphosate, triggers the body to make a dangerous compound named peroxynitrite. At the same time, glyphosate causes the destruction of some essential amino acids, which are the building blocks for many critical life processes. In a landmark study performed by Dr. Pal Patcher and colleagues at the National Institutes of Health, peroxynitrite generation was implicated as a crucial mechanism underlying more than 40 chronic diseases, such as stroke, heart attack, diabetes, cancer, asthma, arthritis, Alzheimer's and Parkinson's diseases. Doctors don't often consider one unifying factor as causing such diverse disease states as allergies and hypertension, but Dr. Patcher considers peroxynitrite as the "smoking gun" in chronic disease.
With the prevalence of so many chronic diseases on the rise, is there another external factor besides glyphosate in GMO foods that triggers the production of peroxynitrite?