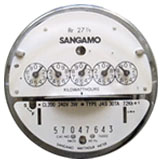 The Division of  Ratepayer Advocates (DRA) is a consumer advocacy division within the California Public Utility Commission (CPUC).  The DRA's statutory mission is "to obtain the lowest possible rate for service consistent with reliable and safe service levels.  In fulfilling this goal, DRA also advocates for customer and environmental protections."
The DRA asked PG&E to explain what they did with the analog meters after they removed them and installed Smart Meters.  PG&E  responded that although they could have gotten $1 each ($1 x millions of meters) but because the vendors wanted the meters "sorted, boxed, and palletized", PG&E decided selling the meters was not cost-effective. Instead PG&E disposed of millions of analog meters for free to scrap metal recyclers.
"The chosen recyclers were able to pick up the meters at no cost to PG&E and the decision was therefore made to use the cost-free recycling approach to dispose of removed meters."
See full response from PG&E here: PG&E analog meters.