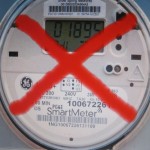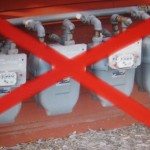 Utility companies around the world are replacing electric, gas and water analog meters with pulsed radiation smart meter networks, which are costing us money, privacy, and our health and safety.
Smart Meters, (also called AMI, or AMR) eliminate meter reader jobs and are part of the "Smart Grid", which is an expensive wireless system installed on our homes, businesses, and in our environment that customers pay for.  It's being installed without informed consent and without full disclosure of how they work, and what they can do with the personal data they collect.  Customers and the media report serious complaints about Smart Meters for the following reasons:
Cybersecurity threat
Former CIA director James Woolsey says the hacking vulnerabilities of the Smart Grid render it "a really really stupid grid".  Cyber security expert David Chalk says: "There is not a power meter or device on the grid that is protected from hacking – if not already infected – with some kind of Trojan horse that can cause the grid to be shut down or completely annihilated."
Privacy invasion
Smart Meters are a surveillance device. They are a search without a warrant. They collect detailed energy usage, for instance:  when you cook, watch TV, whether you are home or not, when you turn on a light, or if you have guests.  This data is very valuable because it can reveal patterns about what you do and when. California utility companies admitted they are providing smart meter data to the government and third parties.  More on smart grid privacy: Electronic Privacy Information Center
Health hazard
The World Health Organization classifies RF as a 2B carcinogen, same as DDT and lead.  Military studies here show pulsed radiation can cause serious health problems, including tinnitus, memory loss and seizures. Thousands of studies link biological effects to RF radiation exposure, including increased cancer risk, damage to the nervous system, adverse reproductive effects, DNA damage, and more.   The top public health official in Santa Cruz County California prepared this report, confirming Smart Meters pose a health risk.  The American Academy of Environmental Medicine (AAEM) sent this letter to the CPUC calling for a halt to wireless smart meters.
Read about customers smart meter health complaints, which include sleep problems, headaches, nausea, anxiety, heart palpitations, tinnitus and ear pain, concentration and memory problems, dizziness, immune, nervous and hormonal system impacts.
Vulnerable groups include people with EMF sensitivities, medical implants, compromised immune systems, children, pregnant women, seniors and the environment!  If you have a pacemaker PG&E warns you to stay 6 inches away from a Smart Meter.

Fires, explosions and burnt out appliances
Smart meter installations are causing fires, explosions and burnt out appliances in homes across the US Canada and Australia. See the shocking compilation of reports: Smart Meter Fires and Explosions
Cost increases
There have beenwidespread reports of smart meter billing overcharges.  Smart meters are also failing and needing to be replaced.  In 2010, PG&E reported over 43,000 Smart Meter problems of one kind or another.
Read customers Smart Meter Complaints about cost and other problems including interference.
How they work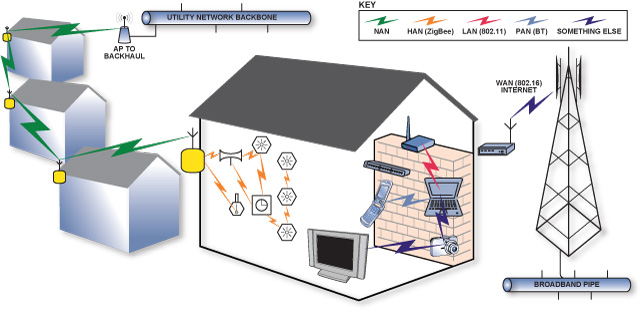 Utility companies are using our homes and businesses for their microwave networks! The electric meter operates around 900 mhz and 2.4Ghz. It constantly transmits and repeats data from 500 +/- homes in a mesh network, which includes collectors which repeat signals back to the utility via cell towers.  Depending on where your home is located within the mesh network will determine how much radiation your meter transmits. PG&E finally admitted that the electric meters send an average of 10,000 pulses per meter per day, at a peak power of 2 1/2 watts and a maximum of 190,000 per day! You can hear the constant pulses in this video below, and see the damage to the environment.
Smart Grid proponents are expecting consumers will install a Home Area Network (HAN) and new smart appliances.  Installing the HAN will allow the utility company to further monitor your electric usage and control the grid, by turning off certain appliances during peak use time, as they need.
FCC Protection?
The Federal Communications Commission (FCC) RF radiation safety standards are for short term thermal effects (5 and 30 minutes), and are configured for a 6 ft 2″ 200 pound male.  The meters are assessed for safety compliance in isolation, not in a mesh network, in which they are designed to operate, or in combination with multiple meters, or other sources of RF, such as wi-fi, DECT phones, cell phones, cell towers, baby monitor etc.   Sage Associates study found the meters can violate FCC safety guidelines in the manner deployed and operated.  In addition the meters can also violate FCC safety conditions.  The new FCC chairman is a wireless industry leader, Tom Wheeler.
Legal Efforts in California
The EMF Safety Network filed a California Public Utilities Commission (CPUC) Application in April of 2010 asking for a moratorium on the deployment, public health hearings and an RF emissions study.  In December of 2010 the CPUC dismissed the application even though no hearings were held in case.   An appeal was filed in January of 2011. The CPUC denied the appeal and on July 11, 2012 we filed a lawsuit against the CPUC.  In 2012 the CA court denied the lawsuit, without comment. The CPUC and Federal Communications Commission (FCC) have rubber stamped utility  safety claims that the meters transmit a few times a day at 1 watt.
The CPUC finally ordered Investor Owned Utilities (IOU's) to allow customers to opt out of Smart Meters in 2012.  However they are charging customers fees, calling the opt-out program a service.  In Vermont customers can keep analog meters at no cost, and so can customers in Los Angeles, CA.  The EMF Safety Network is fully participating in the CPUC opt out proceeding.  Legal filings can be read here.
The EMF Safety Network started the campaign against smart meters in Sebastopol California in 2009. Are Smart Meters Smart?  Today there are action groups throughout California, in many US states, Canada, Australia and Europe. Find one in your area.
Take Back Your Power is a full length documentary film on Smart Meters. You can watch it online (72 hour rental or purchase it).  Click here to watch the film and/or see more film trailers.
MORE INFORMATION:
The following is a partial list of California groups, lawmakers, counties and cities who have called for a moratorium, the right for consumers to opt out, adopted an ordinance banning meters, requested more research on health and safety impacts, or are opposing Smart Meters: Those listed in red banned the meters.  The Utility Reform Network, CA State Senator Dean Florez, CA State Assembly members Jared Huffman and Bill Monning, the County Board of Superviors of Humboldt, Lake. Marin, Mendocino, Monterey , San Luis Obispo, Santa Cruz, San Francisco, Santa Barbara, Sonoma, Tehama , Ventura, and the cities of Arcata, Belvedere, Berkeley, Blue Lake, Bolinas, Buelton, Calabasas, Camp Meeker, Capitola, Clearlake, Cotati, Fairfax, Fort Bragg, Goleta, Grover Beach, Lakeport, Marina, Mill Valley, Monte Sereno, Monterey, Morro Bay, Mt. Shasta, Novato, Ojai, Pacific Grove, Palo Alto, Piedmont, Richmond,Rio Dell, Ross, San Anselmo,  San Luis Obispo ,San Rafael, Santa Barbara, Santa Cruz, Sausalito,  Scotts Valley, Seaside, Sebastopol, Simi Valley, Solvang, Thousand Oaks,  Watsonville, Willits, and the Big Valley Band of Pomo Indians, the Peace and Freedom Party, the Marin Association of Realtors, the Sonoma County Republican Central Committee, the SF Sierra Club, the Monterrey Green Party, the Alameda Greens, and the EMF Safety Network.  In addition cities in the State of Maine and British Columbia Canada have passed resolutions calling for a moratorium on Smart Meters.
Smart Meter Package by Ronald Powell PhD. This document is intended for PEPCO customers, but with a little editing, can be used by all. Smart Meter Package Ron Powell
This 173-page report "Analysis: Smart Meter and Smart Grid Problems – Legislative Proposal" by activist Nina Beety has extensive referenced information about many of the problems and risks of the Smart Meter program, with information from state, national, and international resources.
Apartment owners and managers: AOA Why "Smart Meters" Are Not Smart For You!   Ellen and Tobie Cecil
The Dark Side of "Smart" Meters engineer Rob States
Smart Meter videos byEcological Options Network
Southern California Edison briefing by the co-editor of the Bioinitiative Report, RF expert Cindy Sage: Briefing Letter on Electric Utility Smart Meters
Joint Comments of the Center for Democracy & Technology and the Electronic Frontier Foundation
Energy Investment Forum, Building Green: Consumer Viewpoints on the Smart Grid PUBLIC CITIZEN
13 Fatal Flaws Sage Associates
Legal Challenge to Smart Meters by Judy Vick
Smart Meters and Smart Regulation by Steven Weissman UC Berkeley Law
Public Policy and Those Pesky Smart Meters by Steven Weissman UC Berkeley Law
Harmful Radio Waves- The Invisible Health Threat Of Wireless SmartMeters by Kate Bernier 
NO Thanks PG&E , by Sandi Maurer
EMF Safety Network Smart Meter Questions
PG&E Answers to EMF Safety Network's Smart Meter Questions
More Q and A with PG&E (this document includes PG&E's responses regarding how often meters transmit RF, in 2-20 millisecond pulses, 45 seconds a day – (a second is 1000 milliseconds)

Smart meter SONGS
Dumb Meter Song (by Sandi, Chris and Anna Maurer): http://emfsafetynetwork.org/wp-content/uploads/2011/07/Dumb-Meter-Song071220111.mp3
Get Rid of Smart Meters (by Nina Beety): http://www.youtube.com/watch?v=4IwvE_CPApw