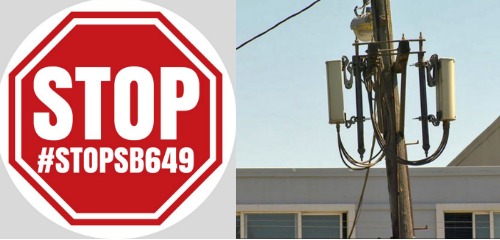 Senate Bill 649 would force installation of radiation emitting cell towers into neighborhoods and countrysides throughout California. How many? Likely one every couple hundred feet.  If SB 649 passes you could awake in 2018 with a cell tower right outside your bedroom window.
SB 649 would harm California. Peer-reviewed published science shows radiation is harmful to people, and nature. Children are especially vulnerable.
SB 649 would eliminate local control and public input.  It would allow unlimited access to deploy refrigerator-size equipment on utility and light poles, and sidewalks with no safety oversight.  Cities would have no recourse to remove a tower even if every resident complained.
Take action to stop SB 649!
Contact your California Assembly person and Senator and tell them to VOTE NO on SB 649. Find yours here: http://findyourrep.legislature.ca.gov/
Print and hand out flyers to friends and neighbors, write in your Assembly member and Senator contact info on the flyer  #StopSB649 hand-out
Sign this petition: https://petitions.moveon.org/sign/oppose-sb-649-stop-the.fb51?source=s.icn.fb&r_by=18676543
Ask organizations to oppose SB 649. Here's how. Please note the deadline for letters has been changed to August 22. Please check back for updates.
More information about SB 649
Please circulate this information on Facebook and Twitter.