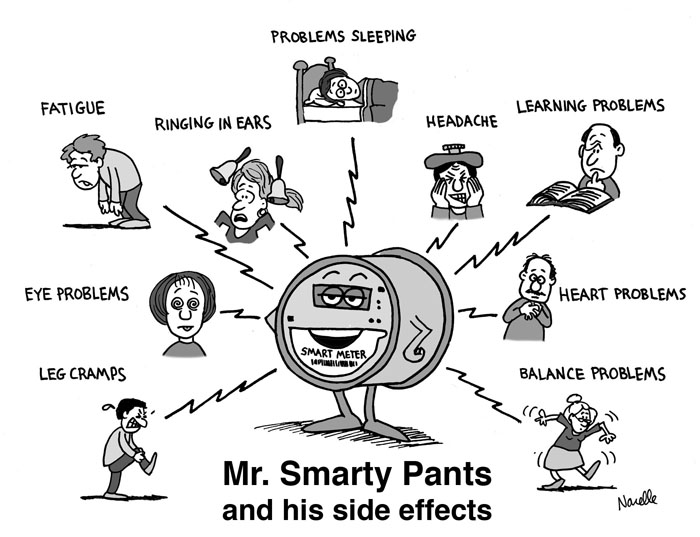 December 1, 2016
An open letter to the City of Sebastopol, City Manager, Council and Staff,
Enforce the smart meter ban in Sebastopol!
In 2013 Sebastopol passed an urgency ordinance banning smart meter installation because they are a threat to health, safety and community welfare. PG&E threatened to sue, so the city did not enforce the ban. PG&E backed off installations, until recently when PG&E met with the city manager to discuss plans to deploy smart meters in Sebastopol.
We are asking the city to enforce the ban because the California Public Utilities Commission (CPUC) has failed to adequately regulate the safety of smart meters.
• The President of the CPUC, Michael Peevey, knew smart meters were causing people pain, and he abetted PG&E's pay to opt-out scheme, and delayed CPUC regulation.
• A pay to opt-out program is an unlawful response to smart meter problems, including privacy and property rights, radiation health risks, fire hazards, and co-located meters.
• Mayor Michael Kyes and Sarah Gurney spoke to the CPUC judge asking for community opt-out. The CPUC dismissed community opt-out without taking testimony or holding hearings.
• EMF Safety Network, and three other groups have appeals citing violations of law pending. A CPUC attorney stated the CPUC will rule on those appeals in December 2016.
We ask you to stand up to PG&E and enforce the ban until the CPUC adequately regulates smart meters, including the right of cities to avoid them.
Please agendize this issue for Dec.19th.
Thank you for your consideration.
Sandi Maurer,
Director EMF Safety Network
Chapter 8.58 SMART METERS (TEMPORARY MORATORIUM ON THE INSTALLATION OF SMART METERS) https://goo.gl/49n4Yf
Overview of PG&E/CPUC emails on smart meters  https://goo.gl/AzfMQU
Summary of Evidence on Smart Meter Fires: https://goo.gl/ZQQH64
EMF Safety Network CPUC Appeal (Rehearing Request) https://goo.gl/updB6M