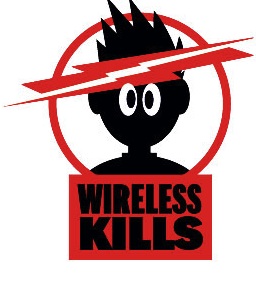 Utility smart meters, wi-fi, cell and cordless phones, and other common devices emit wireless radiation.  The World Health Organization has classified wireless radiation as a 2B carcinogen, same as DDT and lead, based on studies linking wireless to brain tumors.
Wireless can also cause headaches, tinnitus, anxiety, insomnia, cognitive and heart problems, and more. Children are especially at risk.
The BioInitiative Report is a compilation of evidence by international doctors and scientists who evaluated thousands of studies.  They warn about cancer and other health risks from wireless technology and recognize children are especially at risk, because their brains absorb more radiation than adults.
Click on the following links for more reasons to take precautions to protect yourself and your family.
If you  have developed symptoms of electrical sensitivity (ES) learn how to reduce your overall exposure.  See videos and learn more about ES.
The "wireless kills" card can be downloaded and printed out. http://emfsafetynetwork.org/wp-content/uploads/2013/07/Wireless-kills.pdf
Thanks to Zavier Cabarga for logo and card design.