Two young scientists researched and studied wireless health risks for science fair projects. One student was interested in the controversy surrounding wi-fi and whether it should be in schools or not. She found fruit flies exposed to industrial wi-fi had genome mutations. Another student researched mobile phone radiation and warns about brain cancer, insomnia and other health problems.
In May of 2013 a team of Danish 9th grade girls did a science study on wi-fi and found watercress seeds would not grow near a wi-fi router.
The students placed six trays filled with water cress in a room without radiation, and six trays in another room next to two wi-fi routers. Over the next 12 days, the girls observed, measured, weighed and photographed their results. The cress seeds placed near the routers had not grown, whereas the cress seeds in the other room, away from the routers, thrived.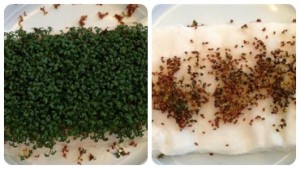 The experiment earned the girls top honors in a regional science competition and the interest of scientists around the world. Full story here: Student Science Experiment Finds Plants won't Grow near Wi-Fi Router