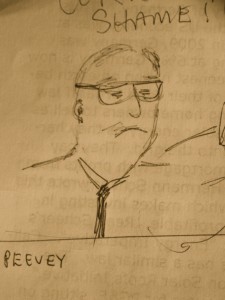 Today the California Public Utilities Commission (CPUC) voted 4-0 to allow PG&E to charge customers $75 initial fee and $10 a month for restoring or retaining their analog meter- or $10 initial fee and $5 a month for CARE customers.  Commissioner Florio was notably absent for the vote.
Everyone has paid for Smart Meters through rate hikes on our utility bills.  So, if you still have the analog, not only do you not get a refund for the Smart Meter you will not use,  but you have to pay to keep the analog meter you already have.  Michael Peevey, who wrote the proposal justified the fees, calling it a "service".
What about the people who asked, or had signs posted stating to not have a Smart Meter, but were forced to have them?  What about banks of meters, neighbors meters, the saturation of our communities with pulsed radiation, no investigation on public health and environmental impacts, no investigation on smart meter fires or meters exploding…not even a cost evaluation of the fees?!?  The fees are arbitrary, punitive, unfair and amount to extortion.  The fees also discriminate against people for medical reasons and are therefore illegal.
For the millions of people who have been forced to have Smart Meters in California now you can legally have Smart Meters removed, and analogs restored.  For those people who have seen outrageous billing increases, are offended by privacy infringement, or are so sickened from the radiation pulses,  they are eager to have the analog meters back.   The initial fees will be less to have PG&E restore the meters, than for you to buy an analog and hire an electrician.  If you can afford it, take advantage of this opportunity, but be very careful if they require you to sign any paperwork.  PG&E may try to use this opportunity to indemnify themselves of harm.  To continue to pay $10 or $5 a month for a meter reader is another matter.  You can deduct that portion of your bill in protest.  The San Jose Mercury News reported you can call PG&E's Smart Meter hotline (1-866-743-0263) to schedule Smart Meter removal.
For those on the delay list, or who still have analog meters, you will be receiving notice from PG&E to pay the fees, or else get a Smart Meter.  Continue to refuse the Smart Meters and the fees and demand fairness.   The opt out proceeding will be continued to evaluate cost and community wide opt-out.