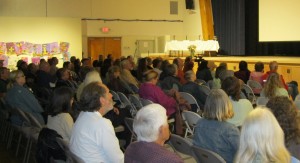 Last night Josh del Sol, Canadian filmmaker presented his new film, "Take Back Your Power- The Smart Meter Agenda Unveiled" at the Sebastopol Center for the Arts in Sebastopol  CA.  About 160 people attended the event.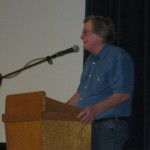 John Eder, Sebastopol City council member welcomed the crowd, introduced the film maker and moderated the discussion which followed the film.  The panel included Cindy Sage co-editor of the BioInitiative 2012 Report,  Michael Neuert EMF electrician, Take Back Your Power director, Josh Del Sol, and EMF Safety Network director Sandi Maurer.
Cindy Sage, co-editor of the BioInitiative Report, and EMF Safety Network advisor said,  "The campaign against smart meters is an international movement that started right here in Sebastopol!"
The event was a fundraiser for the film.  After expenses were paid, $2,600 was raised, with a pledge of more donations to come!  Josh del Sol expressed his tremendous gratitude for the support for the film. "I'm so grateful to the people of Sebastopol and to the EMF Safety Network for pre-screening this important film here.  The film is nearing completion and our intention is to share this empowering documentary with the world!"
Dave Hubert, local resident said, "The film, though 90 minutes long, had me glued!"
Three years ago one of the first smart meter forums was held at the very same building by Sonoma County Supervisor Efren Carrillo. At that time people were being forced to have the smart meters, and PG&E refused to remove them for people with health complaints. Much outrage was expressed.
This year comments and questions for the panel included why is this grid being rolled out worldwide; a local doctor said she is seeing many more patients with nervous system problems; and a suggestion was made to create a medical registry for people injured by EMF's.