If you don't want a smart meter on your home, you won't want V2V in cars. The National Highway Traffic Safety Administration (NHTSA) is proposing to mandate radar (called V2V technology) in all new cars and light trucks.
The stated purpose of the V2V is to improve driving safety by warning drivers of imminent crash risks in time to avoid them and pave the way for self-driving cars.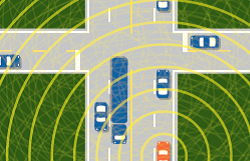 V2V is like a smart meter in your car! The antenna is omni-directional, allowed to transmit up to approximately 2 watts of power output at 10 Mhz and 5.9 Ghz with a range of 300 meters, or three football fields in length, every 100 milliseconds, or 10 pulses a second. The proximity of the transmitter to the driver and passengers is unknown, but could be inches to a few feet away from people in the car.
We strongly oppose mandating V2V in cars and light trucks. All roadway corridors will have significant increases in RFR exposure from V2V and supporting infrastructure.  V2V poses increased safety hazards to drivers, passengers, people in homes who live along roadways, cyclists, and pedestrians. Increased RFR exposure from V2V threatens nature, trees, birds, bees and other insects. Vulnerable populations such as children, seniors, people with electromagnetic hypersensitivity (EHS), and people with medical implants are at greater risk of harm.  Assertions of RFR harm are based in peer reviewed published science.
The NHTSA states they are taking RFR concerns seriously, however they make a couple of important inaccurate statements:
No scientific evidence establishes a causal link between wireless device use and cancer or other illnesses.
There's no scientific basis to link EHS symptoms to EMF exposure.
The National Environmental Policy Act does not apply.
V2V will not have a disproportionate effect on children.
Consumer education by the Federal Government and vehicle manufacturers may help to alleviate RFR concerns.
We believe V2V technology will not make driving safer, but will make driving more harmful to people and the environment, create mobility access barriers, and should be stopped.
Comments are due Wed. April 12, by 11:59 ET.  Please comment on why you oppose V2V here: https://www.regulations.gov/comment?D=NHTSA-2016-0126-0009
EMF Safety Network posted these comments to NHTSA: EMF Safety Network V2V comments