Parents and residents in Prince George's County Maryland have started a campaign "Safe Schools for Prince George's County" to stop the construction of cell towers on 73 school grounds citing safety, property devaluation, lack of community notice, zoning issues, and health issues from wireless radiation exposure.  Several cell towers are moving forward despite community opposition.
Many parents had no idea of these plans for their child's school. Residents near schools were also not notified. Parents are rightly concerned about their children's health.
Dr. Martha Herbert, pediatric neurologist and neuroscientist at Harvard Medical School
"EMF/RFR from wifi and cell towers can exert a disorganizing effect on the ability to learn and remember, and can also be destabilizing to immune and metabolic function. This will make it harder for some children to learn, particularly those who are already having problems in the first place."
The Coalition is calling for a cancellation of all cell-tower contracts.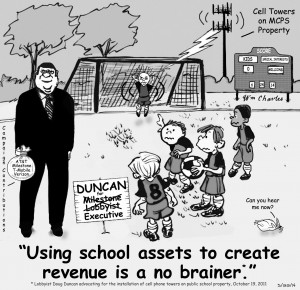 Sign their petition: Stop Cell Towers on Prince George's County Schools
Visit their website for more information: http://www.SafeSchoolsPG.org
Contact them to donate or help out: safeschoolspg@gmail.com