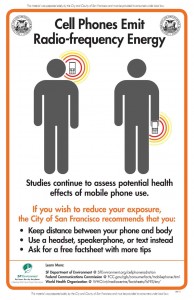 The City and County of San Francisco announced the nations first cell phone ordinance.
Recommendations from the city include:
• Limiting cell phone use by children: Developing brains and thinner skulls lead to higher absorption in children.
• Using a headset, speakerphone or text instead: Exposure decreases rapidly with increasing distance from the phone.
• Using belt clips and purses to keep distance between your phone and body: Do not carry on your body to at least meet the distance specified in your phone's user manual
• Avoiding cell phones in areas with weak signals (elevators, on transit, etc.) Using a cell phone in areas of good reception decreases exposure by allowing the phone to transmit at reduced power.
• Reducing the number and length of calls: Turn off your cell phone when not in use.
The materials required under the ordinance include a factsheet, poster and stickers.