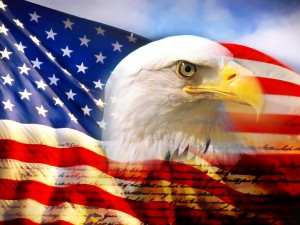 By Howard Glasser
I grew up in the land of the free and the home of the brave.
The America we grew up in doesn't exist anymore except in our hopes and prayers. We watched it vanish before our eyes and we're responsible for that. America is as good as we make it. If America isn't functioning, we're not functioning in it.
Apathy is the single greatest killer of democracy. When people stop caring, stop writing, stop holding their government responsible and accountable, democracy is stolen by the power brokers that would have our representative system of government replaced by lobbyists and private interests who finance political campaigns and work for global corporations that couldn't care less about what happens to America.
Big business is in bed with government and this infidelity is being committed on mattresses we bought and pillows stuffed with our hopes and dreams and hard earned money that thanks to them, isn't worth the paper it's printed on.
That brings me to the preposterous sale made by multi-national companies purporting to be "green" called the Smart Grid. This is the greatest heist of the 21st century. It's what happens when monopolistic corporations take control of basic needs such as gas and electricity and turn the delivery of power to the consumer into the world's biggest casino. It's what we're left with when the people who work for an industry are appointed by government to regulate it. You don't need to be a rocket scientist to know what SmartMeters are about and you don't need a CPA to follow the money. It's pretty simple.  They got the P.O.
This is high treason and every American within the reach of my words should feel called upon to oppose it. Through manipulation of our Constitutional rights and the judicial process, corporations managed to seize control of our nation's natural resources and hold us hostage. Local government was forced to surrender its power to higher business controlled authority and the average citizen was left with no one to protect or defend them. This was a takeover of unprecedented magnitude.
What PG&E is doing is monstrous and the fact that the California Public Utilities Commission is allowing it to get away with it is criminal. SmartMeter installations in California resulted in thousands of customer complaints statewide ranging from exorbitant billing to onsets of cancer and other life threatening disorders linked to the EMF radiation emitted by wireless meters to wide-scale environmental health impact to safety issues like residential and business fires and explosions to Big Brother violations of privacy to breaches in security.
While we sit and wait, SmartMeters are being installed in our neighborhoods, cities and towns and we've been told that there is nothing we can do about it. How did this happen? Organized crime took over and for a price, they got everything they wanted. From that moment on when democracy became a commodity like any other that could be sold to the highest bidder, those that could profit took the money and turned the other way. They turned their back on the America we grew up in; the America we knew; the America we believed in and fought for.
The few idealists who remained in office after the takeover were silenced. The rest were scared. The nation of nations was brought to its knees and the global, military-industrial banking republic was sworn in. At last, the corporation was a person and that individual stood hundreds of feet above everyone and walked around like Godzilla in Legoland.
As we speak, our fearless leaders are preparing for civil disobedience with strangely enough, weapons developed by the military to be deployed for crowd control using microwave beams that heat the skin.
The program is known as ADS, the Active Denial System. Tests run on U.S. soldiers resulted in them being hospitalized with severe burns. It is believed that the U.S. military intention is to develop the technology so that it can be used on crowds from aircraft above as well as on the ground. With political and economic unrest in many countries, the development of novel weapons against crowds is being heavily funded to deter potential activist demonstrations. A weapon of this nature could be employed against protestors or picket lines or anyone else who the established order might consider non-compliant.
"Brave New World?" "1984?" How about "2011?" That's even scarier.
Original published in the Lake County Record Bee on July 15, 2011