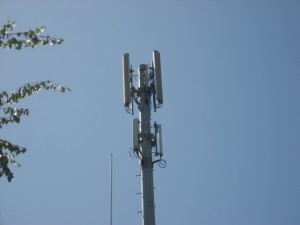 On January 11, the EMF Safety Network filed a lawsuit in California Superior Court against the City of Sebastopol, Verizon, and Crown Castle alleging the City's decision to approve a 4G cell tower expansion was in violation of a California Environmental Quality Act (CEQA).  According to the Sebastopol attorney, the city has a "hold harmless" clause in their contract with Verizon which requires Verizon to pay for all litigation costs related to the cell tower.
Sebastopol is located adjacent to an internationally recognized wetlands preserve, the Laguna De Santa Rosa.  The City filed a CEQA exemption for the project stating there would be "negligible or no expansion of use", calling it a "minor alteration."  EMF Safety Network lawyer Rose Zoia argued their exemption claims were false.  The addition of 3 and 4 G panels to the cell tower will add significant radio frequency (RF) exposure to the downtown area and extend nine miles into the Laguna.
Sebastopol's Telecommunications Ordinance states, " No telecommunications facility shall be sited such that its presence threatens the health and safety of migratory birds."
An environmental study by A. Balmori, Electromagnetic pollution from phone masts. Effects on wildlife. states,
"Electromagnetic radiation is a form of environmental pollution which may hurt wildlife."
"Phone masts located in their living areas are irradiating continuously some species that could suffer long-term effects, like reduction of their natural defenses, deterioration of their health, problems in reproduction and reduction of their useful territory through habitat deterioration.  Electromagnetic radiation can exert an aversive behavioral response in rats, bats and birds such as sparrows. Therefore microwave and radiofrequency pollution constitutes a potential cause for the decline of animal populations and deterioration of health of plants living near phone masts."
A second study, Bioassay for assessing cell stress in the vicinity of radio-frequency irradiating antennas. assesses cell stress in water plants from RF. Conclusion excerpt: "The present work makes a unique biological connection between exposure to RF-EMF and real biological stress in living cells."
Verizon reps swagger into town with their cookie cutter safety data, and hired guns making broad claims of FCC safety.  Cities are caught in a legal trap between mega-rich wireless industry, educated residents armed with evidence of environmental harm and the city's local ordinances which call for protecting the public and environmental health.  The 1996  Telecommunications Act makes it illegal to deny a cell tower based on health impacts!
The Sebastopol City Council voted 2-2 to deny the cell tower expansion, however because it was a tie, the original planning commission decision to approve the 4G network was upheld.  Faced with the cost of a lawsuit from Verizon for denying the tower- or a lawsuit from local citizens which Verizon has to pay, the vote was likely  financially driven.