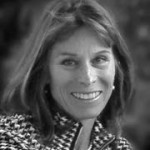 Commentary by Cindy Sage:  Not long ago, a Physician Assistant in a hospital emergency room told us she was asked to wear a wireless headset (that connects wirelessly to the internet) while seeing her patients. She declined.
In that same week, a young mother went to a new internist in the bay area. The nurse asked if she would give consent for the doctor to wear a wireless headset while examining her child. She also declined.
What is it that these two young women know? Is it something you should be aware of? Here are some important things people should know about the problems posed by wearable wireless computers in the doctor's office.
Driving drunk, and talking or texting on a cell phone may have in more in common than you think with extended use of a wireless headset. The exposure levels from a wireless headset are about equivalent to (or in some cases higher) than holding a smart phone to the head. Use of a cell phone while driving disrupts cognition and increases the risk of vehicular collision by 4-fold. Now imagine your doctor under the influence of constant workplace RF exposure while they treat patients, prescribe treatments, write prescriptions and juggle intense workday tasks.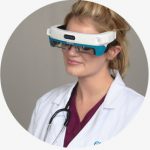 Effects on brain function seem to depend in some cases on the mental load of the subject during exposure (the brain is less able to do two jobs well simultaneously when the same part of the brain is involved in both tasks). Some studies show that cell phone exposure speeds up the brain's activity level; but also that the efficiency and judgment of the brain are diminished at the same time. Faster work but worse mental capacity is not a good thing for a practicing medical doctor.
Multitasking, memory, learning, attention, and concentration are all impaired by the use of wireless devices. Why would anyone want a distracted doctor with impaired thinking skills treating them? Or any healthcare person for that matter? And, doctors should know that wearing the equivalent of a smart phone mounted against their head is a potential risk for brain cancer (glioma and acoustic neuroma).
Next time you need to see your doctor, you may be asked if you object to them wearing wireless headsets. This could easily happen to you. Be prepared with some information.
Is your doctor using wireless medical glasses? A new paper by Cindy Sage and Lennart Hardell warns about the risks to doctors and their patients.
ABSTRACT
Wireless-enabled headsets that connect to the internet can provide remote transcribing of patient examination notes. Audio and video can be captured and transmitted by wireless signals sent from the computer screen in the frame of the glasses. But using wireless glass-type devices can expose the user to a specific absorption rates (SAR) of 1.11–1.46 W/kg of radiofrequency radiation. That RF intensity is as high as or higher than RF emissions of some cell phones. Prolonged use of cell phones used ipsilaterally at the head has been associated with statistically significant increased risk of glioma and acoustic neuroma. Using wireless glasses for extended periods to teach, to perform surgery, or conduct patient exams will expose the medical professional to similar RF exposures which may impair brain performance, cognition and judgment, concentration and attention and increase the risk for brain tumors. The quality of medical care may be compromised by extended use of wireless-embedded devices in health care settings. Both medical professionals and their patients should know the risks of such devices and have a choice about allowing their use during patient exams. Transmission of sensitive patient data over wireless networks may increase the risk of hacking and security breaches leading to losses of private patient medical and financial data that are strictly protected under HIPPA health information privacy laws. Link to this article:  https://doi.org/10.1080/15368378.2017.1422261