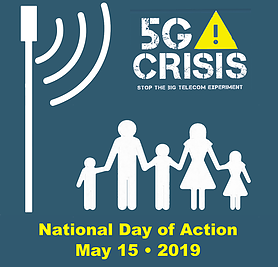 5G isn't an upgrade, it's a massive increase in wireless radiation exposure. On Wednesday May 15, EMF Safety Network will be holding a protest in Sebastopol and a rally in San Rafael California. We are joining the actions of groups across the country to peacefully protest 5G and call for a moratorium to protect public health, children and nature.
In Sebastopol we will meet on the four corners of Hwy 12 and 116 (south) in the heart of downtown from noon to 1pm to protest 5G. Please note rain may cancel this protest.
In San Rafael we will meet at the San Rafael Plaza at 1000 4th Street, from 12:00 Noon to 1:30 P.M NO to 5G Rally: Keep Our Children Safe From Wireless Radiation Harm.
Vicki Sievers, co-organizer of the rally writes,"You will hear Marin physicians who are alarmed about 2G-3G-4G effects on the health of their patients. 5G is bringing them out of their offices to focus our attention on this newer threat to the well-being of our children. The director of the California Brain Tumor Association and the co-director of Marin's Ecological Options Network will also speak."
Peer-reviewed published studies show that long-term exposure to wireless microwave radiation causes biological harm. The radiation overwhelms the body's chemical and electrical systems, leading to serious medical issues that range from neurological problems to cancer. Children are more vulnerable to these effects as their physiology is still developing.
Our children have a right to play in their yards and sleep in their beds without being subject to constant, involuntary exposure to microwave radiation that could harm their health. We have an obligation to protect them. 
Dr. Ronald Powell, PhD: "5G would irradiate everyone, including those most vulnerable to harm from radio-frequency radiation: pregnant women, unborn children, young children, teenagers, men of reproductive age, the elderly, the disabled and the chronically ill."
What are EMFs brochures and 5G fact sheets and other information will be handed out at both events.
See www.5Gcrisis.com for information on other protest locations. Thanks to Americans for Responsible Technology who have organized this National day of Action.