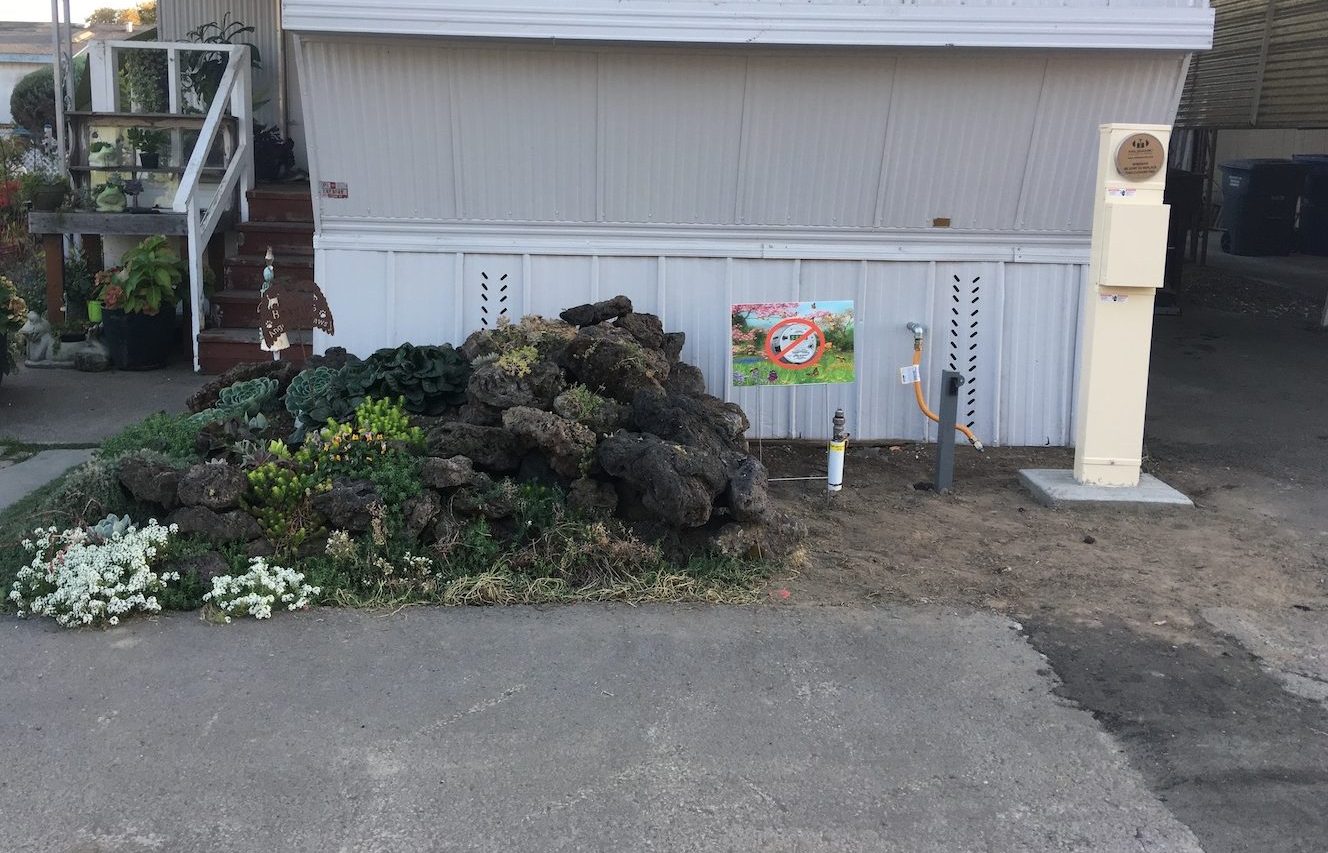 A majority of residents from Fircrest Mobile Home Park in Sebastopol signed a petition asking the City of Sebastopol to help them avoid the installation of "smart meters" and to retain analog meters in their senior community. PG&E has been working in the mobile home park since July replacing utility lines in order to switch all homes from sub-metered analogs to smart meters.
In support of the residents' petition, the City of Sebastopol sent a letter to the mobile home park management with a copy to PG&E, with a reminder that in 2013 the City of Sebastopol adopted a temporary moratorium on smart meter installations and related equipment.
The letter stated that the park's initiation of the electrical work has resulted in residents facing the need to meet an unanticipated fee in order to "opt out" of smart meter installations that they did not request. They ask, "The Sebastopol City Council asks your cooperation in either paying the opt fee for the residents of the park, and/or your request of PG&E that they retain the analog meters." 
The letter pointed out that Fircrest Park's residents can be considered "Captive" in the mobile home park by reason of their dual status as both home owners and tenants which the City maintains is both unfair and possibly a violation of the protections of the California Mobile Home Residency Law.
81 residents of Fircrest Mobile Home Park have signed the petition (from 68 out of 87 total households) to oppose smart meters. Many believe smart meters would negatively affect the aesthetics and significantly decrease the value of their home. As park residents learned more about how smart meters emit pulsed microwave radiation 24/7 very near to their bedrooms and living quarters, they have expressed a growing concern about the negative health and safety impacts of these devices.  The fact that Fircrest Mobile Home Park is a high density senior residence adds to the concern about the cumulative effect of so many microwave emitting devices in such a small area.
Peer-reviewed scientific research shows that exposure to wireless smart meters is associated with increased health problems. Dr. Martin Pall reports, "18 more recent epidemiological studies, provide substantial evidence that microwave EMFs from cell/mobile phone base stations, excessive cell/mobile phone usage and from wireless smart meters can each produce similar patterns of neuropsychiatric effects, with several of these studies showing clear dose-response relationships…Among the more commonly reported changes are sleep disturbance/insomnia, headache, depression/depressive symptoms, fatigue/tiredness, dysesthesia, concentration/attention dysfunction, memory changes, dizziness, irritability, loss of appetite/body weight, restlessness/anxiety, nausea, skin burning/tingling/dermographism and EEG changes." See also this smart meter study. 
Media and numerous customer complaints reported electrical costs skyrocketed after smart meter installation.  Smart meter malfunction has also been implicated in smart meter fires and burned out appliances.
Sebastopol's General Plan includes protective electromagnetic field (EMF) policies; for example Community Health and Wellness Policy 4-2: "minimize unsafe EMF radiation levels near sensitive areas such as schools, hospitals, playgrounds, high density residential, and libraries when planning for electrical transmission facilities repair and new construction." (page 10-6 in the General Plan.)
11/27/2019 UPDATE:  Gas analog meters have been installed and electric analog meters are currently being installed. Thank you PG&E!