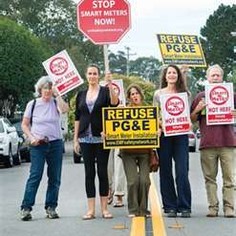 Please sign this petition created by Donna Bervinchak, from San Francisco, addressed to: P.G&E., Governor Jerry Brown, C.P.U.C., President Obama:  "Remove and Ban all SmartMeters from the state of CA and the entire U.S.A. The carcinogenic emissions from SmartMeters are making once healthy, functioning Americans, sick, mentally unstable, unable to live in their homes and unable to function and hold down a job."
Donna's statement on why this is important:

I lived in San Francisco, CA for 22 years and l loved my life there. In October of 2011, P.G.&E. turned 12 SmartMeters on, outside my apartment without my knowledge. In November I started to sleep more than usual and I thought it was because it was getting dark early so I brushed it off. In December I broke out in hives all over my face and the skin on my face became unusually dry. Nothing like this had ever happened to me before but I brushed it off again and blamed it on stress.
By January I was sleeping so heavily I felt like I was drugged and this is when I started to think maybe someone in my apartment building started to use WiFi again (last year everyone in my apartment building stop using WiFi on my request due to my sensitivity to wireless). By the middle of January I couldn't sleep. I also began to have trouble breathing because the air felt too thick. My face started to become numb as well as my scalp and gums of my teeth. I began to have a lump in my throat that made me loose my appetite and thirst. I developed an intense pressure headache that felt like a vise pressing on my temples.
This is when I discovered the SmartMeters and called P.G.&E. and asked them when they turned them on. I asked them to remove them because they were giving me all the symptoms I described above and they told me that they could not do that for me because they were federally approved.
I tried to stay in my apartment and over time I got weaker and sicker. I began to have trouble concentrating and thinking. I moved out of my apartment on Jan. 29, 2012 and stayed with a friend who didn't have a SmartMeter. I slowly got better but I still would get sick walking down the street in San Francisco from all the SmartMeters emitting their microwave like waves into the streets. I started having heart palpitations and shortness of breath just from walking down the street.
I went to the country for one week in Comptche, CA and spent time with a friend on her 64 acres of land. She lived off the grid and I immediately got better. I felt like my normal, healthy self again. This is when I knew I would have to move out of San Francisco.
Please sign this petition. People may not know that SmartMeters are affecting them. People need to know that SmartMeters are dangerous to the health of all living beings. Children and animals can't speak for themselves so I am speaking out for them now!
Donna