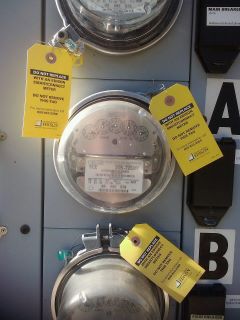 TO: Southern California Edison Smart Meter Department PO Box 6400 Rancho Cucamonga CA. 91729
[Insert date]
NOTICE OF NON-CONSENT TO INSTALL A MICROWAVE TRANSMITTER, (SMART METER) ON COMMERCIAL PROPERTY, NOTICE OF LIABILITY
To: SCE customer service, SCE agents, officers, employees, contractors and interested parties:
The installation of a utility smart meter that transmits or emits microwave radiation on the commercial property located at [INSERT BUSINESS ADDRESS], is hereby refused and prohibited.  Because the California Public Utilities Commission (CPUC) order is silent on opt-out for SCE commercial customers, we are expecting and asserting the same rights as residential customers, who may opt-out for any reason, or no reason.[1]
While my reasons include [INSERT REASONS], I would expect my request to be honored without a stated reason.
If you refuse our request and place a smart meter at our business, we will have no choice but to promptly remove the meter ourselves and restore the analog meter.
Thank you for respecting our request.
Your signature
Your name
Your address
[1]            Decision 12-04-018, date of issuance, 4/30/2012 Conclusion of Law #1.