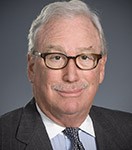 The California Public Utilities Commission (CPUC) is responsible for protecting utility customers and ensuring safe and reliable utility service.
Michael Peevey, the President of the CPUC,  has been in charge of the decisions regarding smart meters.  He approved wireless smart meters without any safety review.  He approved smart meter opt-out fees without any legal review.
Peevey cussed out an attorney who's asking questions at a public hearing.
Do you have questions about utility smart meters?  President Peevey can be reached at mp1@cpuc.ca.gov  He doesn't want to hear from you!