On Wednesday, June 19, the Sedona City Council held a special workshop regarding Arizona Public Service (APS) plans to deploy utility smart meters in Sedona.
Sedona Smart Meter Awareness (SSMA) is raising awareness about the cost, privacy, health and safety hazards of utility smart meters.  APS and SSMA presented information about smart meters. Both sides were given equal time.  Only ten public speakers were allowed due to time constraints, however all spoke in opposition to Smart Meter deployment.  The meeting was standing room only.  The entire discussion, including the presentations and council discussion is available by video here, see part 3A,.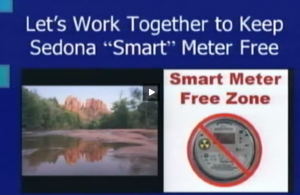 Nancy Baer, SSMA representative said, "APS representatives seemed to be in over their heads when Councilors began asking questions.  Sedona Smart Meter Awareness created a solid, fact-filled PowerPoint presentation delivered by Warren Woodward. All concerns were thoroughly covered: health, safety, privacy, and cost."
In response to the question of federal requirement to install smart meters, APS confirmed, "There's been no federal mandate for us to move in this direction."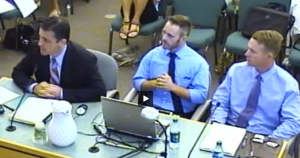 APS currently has a proposal on file with the Arizona Corporation Commission (ACC) to charge opt out consumers $75 upfront and $30 more added to their monthly bill.  Every councilor objected to that proposed fee.
At the conclusion of the workshop, Councilor Barbara Litrell introduced and Councilor Dan McIlroy seconded the motion to:
"..direct the staff to prepare a statement for the Arizona Corporation Commission that expresses concerns, on behalf of our Sedona citizens, that Smart Meters have not been proven safe and until such time as definitive proof exists the Arizona Corporation Commission should allow the Sedona community to opt out without penalties."
On a 4-3 vote, the City agreed to file a letter requesting community opt-out without penalties with the Arizona Corporation Commission.
Warren Woodward said, "In addition to violating health, rights, trespass and wiretap laws, APS will be violating the City's nuisance ordinance if they install 'smart' meters in Sedona.  APS should not be immune from law just because they are supposedly regulated by the Arizona Corporation Commission. We asked the City to enforce the law.  Their motion is a first step." 
Sedona currently has no smart meters deployed there.