Restore analog meters!
Around the world analog electric, gas, and water utility meters are being replaced with pulsed radiation smart meters (also known as AMR or AMI meters).  Smart meters are often forced on customers without honest disclosure about the how they work, and what the cost, privacy, health and safety risks are.
Still have analog meters?
Put up a signed refusal notice at your meter: Do not consent sign
Send your utility a certified letter telling them you do not consent to the installation of a smart meter.  See sample refusal letter
Complain to your Public Utilities Commission (PUC) or utility oversight board.
Educate and encourage friends, family and community to avoid smart meters.
Already have smart meters?
Contact your utility and tell them you did not consent to having a smart meter and tell them to restore the analog meter. Be sure to include if you are having problems related to the smart meters, or if you need to protect yourself medically.  A declaration can be helpful, see example: http://emfsafetynetwork.org/wp-content/uploads/2012/05/DeclarationJaneDoe.pdf  A note from the doctor, or attorney also can be helpful.
The federal government did not make Smart Meters mandatory: Energy Policy Act of 2005, Title Xll, Subtitle E, Section 1252, (a), (14), (C):"Each electric utility subject to subparagraph (A) shall provide each customer requesting a time-based rate with a time-based meter capable of enabling the utility and customer to offer and receive such rate, respectively."
If your utility ignores your request you may want to hire a certified electrician to re-install the analog meter. Analogs are still available despite what the utility company claims.  A sample letter and analog kit can be found at FreedomTaker.com. Warning: If you take the above step the utility might turn off your power, and may take legal action against you.
Do not accept a non-transmitting digital wired meter.  Digital meters use a switching-mode power supply, which produces "dirty" electricity on the wiring of your entire home. The safest option is an analog meter.
Opt-out fees 
In some states there are opt out programs that charge punitive fees to retain or restore analog meters. No federal law forces smart meters on customers. While the legal battle continues, you have a couple choices:
You can resist the fees. Pay your utility bill minus the fee. The risk of this action is they could threaten to turn off your power, or they might try to force a smart meter on your home.  In California PG&E has threatened, but not turned off anyone's power who've resisted the fees.  They want to avoid media attention and maybe they know they're standing on shaky legal ground.
 If you'd prefer not to hassle with them you can write a separate check for the fees and write "PAID UNDER DURESS" on your check.
Other actions you can take:

Educate your neighbors, friends, family and community. Start by sending this link.
Host a showing of Take Back Your Power.  This is a full length award winning smart meter documentary.
Send a letter to the editor of your local newspaper.

Post comments on online articles.
Connect with others- Find a smart meter website in your area.
Contact representatives at city, county, state and federal level to: call for a moratorium; adopt an ordinance banning smart meter installation; mandate no opt out fees; and demand smart meter health and safety hearings.
Create and hand out flyers: See samples for California. See examples of simple but older flyers in Spanish, and Beyond the Greenwash
Where to Complain: For all states complain to your Public Utilities Commission (PUC) or utility oversight board.
Take action against installations by protesting. See this compilation of protests that were held in Northern California since 2010.

Complain to federal government agencies that are responsible for consumer protection:
The Federal Communication Commission (FCC)  The FCC sets the guidelines for exposure to the radiation smart meters emit, and they are in charge of the installation conditions of which a utility should comply. The guidelines are not health standards. They do not protect from 24/7 exposure, and they are not designed for children.
The US Consumer Products Safety Commission (CPSC) is a federal agency that agreed to take complaints on utility smart meters from all US states.  If you have or had smart meter health problems CALL: (800) 638-2772  Monday through Friday from 8:00 a.m. to 5:30 p.m. ET.
The Food and Drug Administration (FDA) This form can be used for any injury from EMF's, including Smart Meters.Download and complete the form, print out and mail to: US FDA Center for Devices and Radiological Health  Document Mail Center -WO66-G609 / 10903 New Hampshire Avenue           Silver Spring, MD 20993-0002
If you live in California: 
Investor Owned Utility companies must allow customers the right to analog utility meters on their home!   We will continue to fight for no cost analogs, and safety hearings on Smart Meters.  Tell the CPUC to Restore the Analog Meters.
PG&E: call 1-866-743-0263 or send a certified letter to Pacific Gas and Electric, PO Box 997315, Sacramento Ca 95899-9900. PG&E *commercial customers send this letter to PG&E by certified mail.  Complaints call Mark Torres: 415-973-7100
SCE:  call 1-800-810-2369 SCE Commercial Smart Meter opt-out letter

SDG&E: call  1-877-357-8525 or send a certified letter to San Diego Gas & Electric, Attn: Smart Meter Opt-Out CP42I, PO Box 129831, San Diego, CA 92112-9985.

So Cal Gas: call 877-238-0090
Privately owned utility companies (POU) in California are governed by their board of directors and likely by Federal law, which only stated to offer Smart Meters, not force them on people's homes.  If you are a POU customer you'll need to contact your utility to inquire about Smart Meters. One example is SMUD in Sacramento. 1-888-742-7683

Legal talking points for refusing opt out fees in California:
The interim fees are unjust, arbitrary and unreasonable, which violates of Public utilities Code 451: "All charges demanded or received by any public utility, or by any two or more public utilities, for any product or commodity furnished or to be furnished or any service rendered or to be rendered shall be just and reasonable. Every unjust or unreasonable charge demanded or received for such product or commodity or service is unlawful."
If you avoid RF for medical reasons, to pay more for a different meter violates PUC code 453(b). "No public utility shall prejudice, disadvantage, or require different rates or deposit amounts from a person because of ancestry, medical condition, marital status or change in marital status, occupation, or any characteristic listed or defined in Section 11135 of the Government Code."
The federal government never made Smart Meters mandatory: Energy Policy Act of 2005, Title Xll, Subtitle E, Section 1252, (a), (14), (C):"Each electric utility subject to subparagraph (A) shall provide each customer requesting a time-based rate with a time-based meter capable of enabling the utility and customer to offer and receive such rate, respectively."
Time of use metering is not mandatory: CPUC Code Section 745(d)(1):"Residential customers have the option to not receive service pursuant to time-variant pricing and incur no additional charges as a result of the exercise of that option. Prohibited charges include, but are not limited to, administrative fees for switching away from time-variant pricing, . . ."
Where to complain in California:

If you have had smart meter related problems (health, safety, billing etc.), file a complaint with your utility and follow up with a complaint to the CPUC.  https://www.cpuc.ca.gov/complaints/
A formal complaint would allow a hearing with a judge. The expedited complaint would be best avoided as there are no transcripts of the hearing.
Contact the CPUC with comments or questions c/o Public Advisor 505 Van Ness Ave. Rm. 2103 San Francisco CA. 94102. phone: 866.849.8390 fax: 415-703-1758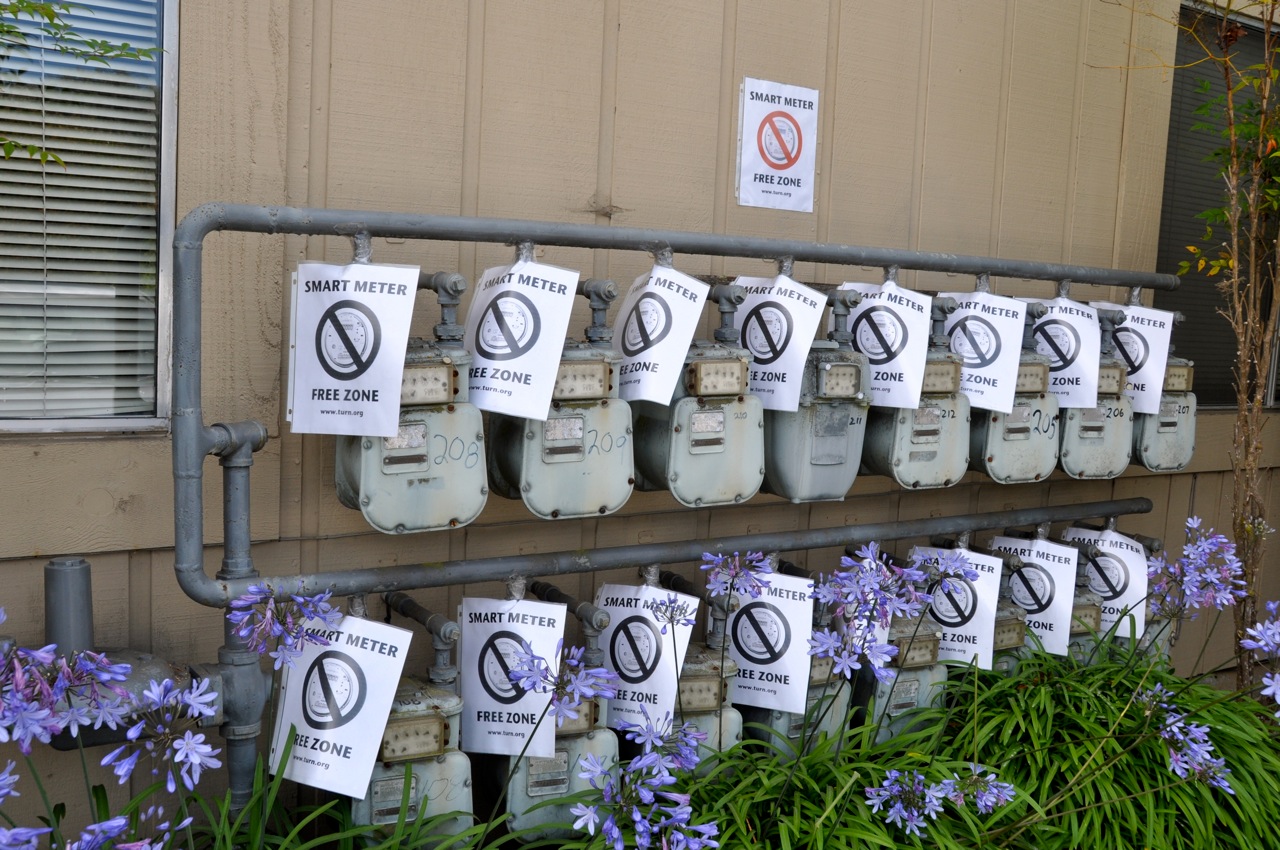 updated 6/5/2021