EMF Safety Network filed comments today opposing the CPUC's proposed decisions.  The CPUC decisions will force customers to pay permanent fees to avoid a smart meter on their home, and business customers and communities will not be able to opt out.
Read the comments here: Network PD Comments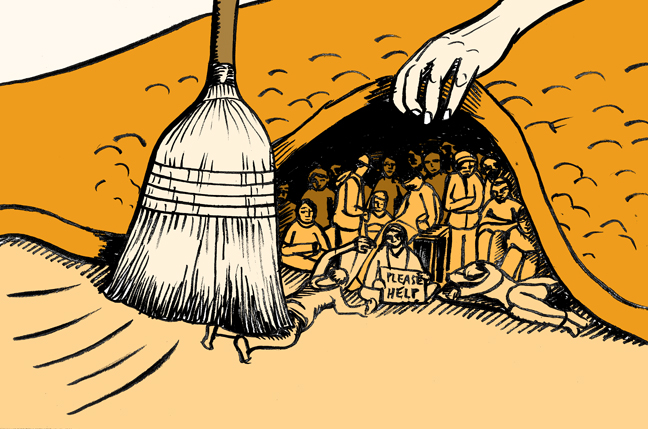 The CPUC is attempting to sweep public participation under the rug, deny community rights, restrict participation, and apparently expects no pushback!
Demand the Commission:
Reject the proposed decisions
Rescind smart meter opt out fees
Order all interim fees refunded to customers
Ban co-located antennas in multiple meter installations
Hold evidentiary hearings on smart meter health and safety impacts
Allow community and commercial opt out.
The best way to do this is to go to a CPUC meeting.  Mark your calendars and plan to attend on Thursday, December 18, 2014, 9 am at 505 Van Ness Ave, San Francisco. This will be President Peevey's last day on the Commission.
You can also lobby the Commissioners: Mike Florio 415-703-1840/ Catharine Sandoval 415-703-3700/ President Michael Peevey 415-703-3703/ Carla Peterman 415- 703-1407/ Michael Picker 415- 703-2444
The Commission must vote against the proposed decisions because requiring customers to pay opt out fees is coercion by exaction, extortion.  Customers are forced to choose between paying to avoid harm, or the threat of harm from the pulsed electromagnetic radiation (EMR) smart meters emit, or lose essential utility service.  The opt out fee would become a government-imposed exaction whose purpose and effect is to coerce payment.
A "pay to opt out" program does not provide relief to all customers, is a violation of utility laws and core principles of private property law.
The responsibility for the cost of the opt out program should rest with the true cost causers: the utilities and the CPUC.
Smart meters are a nuisance, a means of illegal trespass, and an unconstitutional interference with owners' peaceful use and enjoyment of homes and properties.
Neither PGE nor the CPUC has the right to use private property for installation of smart meters without the owner's consent or due process of law.
Communities have a legal responsibility, and the legal and vested power to protect residents from harm and the threat of harm.  The decision that communities and multi-unit dwellings cannot opt out is a false and misleading conclusion.
The purpose of opt out fees is protection of the smart grid project and increased utility profits.  The utilities do not want customers to opt out because the smart meter mesh network relies on customers participating.  Where the process conceals project failings from full public scrutiny, it is unlawful and demonstrable cronyism. If shareholders paid for opt out costs, more accountability in the future would be assured.
The Commission should reject both PDs; rescind smart meter opt out fees; order all interim fees refunded to customers; ban co-located antennas in multiple meter installations; and keep the proceeding open to 1) hold evidentiary hearings on smart meter health and safety and 2) take testimony on community and commercial opt out.
The CPUC must take these actions to ensure safe and reliable utility service at reasonable rates to California customers or fail in its stated mission.