On Oct 5, 2012 testimony was served in the CPUC smart meter opt out proceeding. On behalf of the EMF Safety Network I served the Testimony of Sandi Maurer. Here's the summary,
"All customers should be allowed to opt-out of Smart Meters at no cost. Smart Meter opt-out costs should be paid by utility shareholders and/or shifting of utility funds. There should be no initial fees, no monthly fees and no exit fees. I believe that charging fees to opt out of a health and safety hazard is unlawful, and defeats the purpose of the opt out program which was to give utility customers a choice. Punitive opt out fees must be eliminated because they are unjust, unreasonable and in my opinion unlawful based on the Public Utilities Code.

The customer did not create this problem. The Commission, in concert with the utilities forced Smart Meters onto customers. They failed to fully vet the technical specifications prior to approval. They dismissed formal public opposition and continued to deploy Smart Meters and scrap analog meters.

Customer choice should be extended to commercial customers. Customers who have paid opt out fees should have their money refunded. Future costs of Smart Meter problems should be considered. Millions of Smart Meters are not working properly, and tens of thousands are failing and being replaced annually. Investigations on Smart Meter fires are currently taking place in three other states. The long term public health risk is a serious cost and liability issue, and health experts are advising against Smart Meters. A free opt out is an important step toward resolving these and other Smart Meter complaints."
Six other parties in the smart meter opt out proceeding also served testimony. The Center for Electrosmog Prevention and Jeromy Johnson took a similar position as I did, calling for no fee opt out. Aglet Consumer Alliance called for a health and safety review and free opt out for customers with medical conditions. CLECA, an industry group, did not want business customers to pay more for the opt out program.
The District Ratepayer Advocates (DRA), who are a division within the CPUC whose mission is: "Our statutory mission is to obtain the lowest possible rate for service consistent with reliable and safe service levels. In fulfilling this goal, DRA also advocates for customer and environmental protections. " DRA did not recommend how opt out fees should be allocated.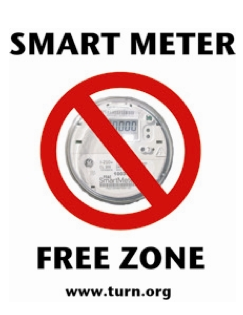 In a shocking turnabout, The Utility Reform Network (TURN), a leading California utility consumer advocacy group who has encouraged its members to refuse Smart Meters on their homes since 2009, is now advocating Smart Meter opt out customers pay even more than the current "interim opt out fees "of $75/10 and $10/5 for CARE- low income. TURN testimony  Although it's not clear what TURN recommended for PG&E customers, they sided with SCE and SDG&E in recommending individual customers pay all opt out program costs.
TURN recommends SCE customers pay $56 initial fee and $19 every month, and for low income $45 initial fee and $15 a month!  That's $89 more per year, and $155 more per year for low income customers than the current proposed "interim" fees, which are already punitive! This is a major contradiction. I called TURN to discuss this, but the lawyer who worked on the case was out of town and unavailable for comment.