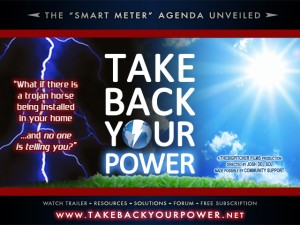 The EMF Safety Network presents a special pre-release screening of the film "Take Back Your Power:  The "Smart Meter" Agenda Unveiled", by Canadian director Josh Del Sol on Wednesday April 17 at 7pm.  The film will be followed by a panel discussion, at the new Sebastopol Center for the Arts.
This eye-opening documentary feature film investigates the "smart" meter program being rolled out worldwide without the people's consent. The film uncovers alarming issues about health, privacy, property rights, corporate fraud, and the unprecedented vulnerability of the "smart" grid. You will leave with a deeper understanding of the motives behind the agenda and proven solutions for coming together and co-creating a healthier world.
Following the film there will be a Q and A panel discussion moderated by Sebastopol City Council member John Eder.  The panel includes Cindy Sage co-editor of the BioInitiative 2012 Report,  Michael Neuert EMF electrician, Take Back Your Power director, Josh Del Sol, and EMF Safety Network director Sandi Maurer.
This is a great opportunity for people to learn why the City of Sebastopol and a dozen other cities and counties in California made Smart Meter installations illegal.
This event is a fundraiser for the film. Donations requested, but no one will be turned away for lack of funds.
Take Back Your Power:  The "Smart Meter" Agenda Unveiled
Wed. April 17 at 7pm