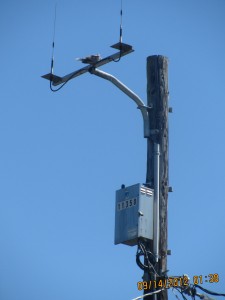 In California, Pacific Gas and Electric (PG&E) uses two types of antennas to relay and collect data from smart meters.  The smart meters themselves use a mesh network system that transmits pulsed RF radiation sending data from meter to meter. Most of the near constant transmission is for the wireless management system that ensures the system is working.  The PG&E system also uses cell phone antennas to relay data.
The gas data collectors are often mounted on utility poles.  They have a two prong antenna, that looks like a football goal post and that's mounted above a small  solar collector (not shown).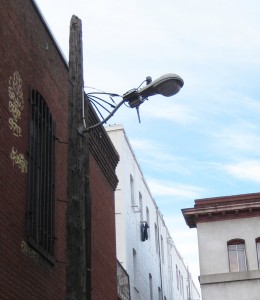 Electric repeaters are also mounted on utility poles or streetlights and the antenna points downward.  If you'd like to know where these are located in your area contact your utility company. For PG&E contact Denise Alexander.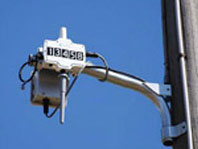 Thanks to Amy O'Hair and Angela Flynn for these photos.