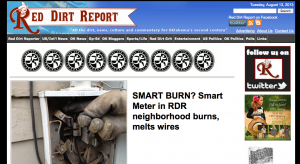 Today the Red Dirt Report tells of a smart meter fire in Oklahoma, one day before a smart meter hearing is scheduled to come before the Oklahoma Corporation Commission.
According to writer Andrew Griffin, he was driving in a neighborhood in Oklahoma City when he spotted an OG&E  utility truck.  He writes, "The utility worker had a Smart Meter in his hand and when I asked him what had happened, he informed me that some wires had burned up, seriously limiting power to the affected home.  And sure enough, the meter was damaged and when he took me to the backyard of the home the wire was burned up and melted in several spots. I asked the utility worker if a fire could have spread and burned the house down – as has been reported in other areas – and he said, "Anything is possible."
The worker told Andrew that the smart meters are supposed to signal the utility of a problem, but notes, "in this case the sensor didn't work."
The homeowner also reported the air conditioner was not working.
According to the reporter, " It was ultimately determined that the defective Smart Meter was to blame and would be replaced."
Click here to read more smart meter fires.