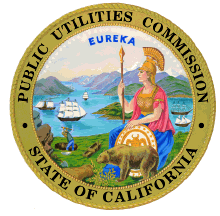 The revised PG&E smart meter opt out proposed decision is now available.  This will come before the California Public Utilities Commission (CPUC) to be voted on at their business meeting on Wed. February 1 in San Francisco.
Here's the highlights:  The opt out choice will only be the analog meter, not a "radio off" meter.  Customers can choose to either have a smart meter or an analog meter. The proposed interim cost is $90 initial fee per customer and $10 a month fee. For low income proposed fees are $10 initial fee and $5 a month.  This revision allows for a second proceeding to further analyze costs and community wide opt out.
For a quick review read the summary at the beginning and/or the Findings of Fact/ Conclusions of Law and the Order at the end of the paper.
Another Commissioner can submit an alternate proposal.  We will support an alternate proposal if it includes hearings on health impacts of smart meters and a no cost interim fee until the second proceeding is complete.  Failing a modification, or alternate proposal that includes these issues we will urge the Commission to reject the proposed decision.
HERE'S WHAT YOU CAN DO:
Call or email the CPUC:  866-849-8390 or 415-703-2074
Refer to revised proposed decision 11-03-014.  Ask the Commissioners to:
Modify the revised proposed decision to include hearings on health impacts in the second proceeding, along with cost evaluation and community wide opt-out.
Provide immediate relief to those requesting it and restore the analog meters, however do not charge any interim fees for opting out.
Attend the CPUC meeting on Wed. February 1 at 9 am at the CPUC, 505 Van Ness Avenue, San Francisco.  Plan to arrive by 8:45 am to sign up to speak to the Commission.  Prepare a 1-2 minute statement.