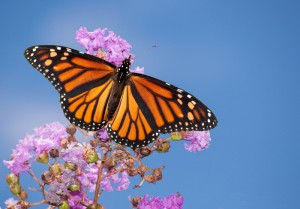 On August 21, 2013 the city of Pacific Grove will hear an appeal on the placement of an AT&T 4G cell tower next to the Monarch Butterfly sanctuary.
Pacific Grove is an overwintering area for the monarch butterfly. Each year, these butterflies migrate thousands of miles from Canada to Pacific Grove and other special places in the Western Hemisphere. They arrive and stay through several reproductive cycles, and then continue their travels.
Pacific Grove has an ordinance specifically protecting monarch butterflies. It has a small area set aside for the butterflies as a sanctuary, but the butterflies roost and feed in trees in the surrounding area. Many travel books feature this sanctuary to attract visitors from all around the world.
AT&T wants to put a permanent set of cellular 4G antennas at Wilkie's Inn, (1038 Lighthouse Avenue) next to the butterfly sanctuary. This is one of the few monarch habitats the butterflies rely on.
Here's two studies that indicate insects are harmed by radiation.  Food collection and response to pheromones in an ant species exposed to electromagnetic radiation found exposure to radiation caused colony deterioration and affected social insects' behavior and physiology. Another study Oxidative and genotoxic effects of 900 MHz electromagnetic fields in the earthworm Eisenia fetida found radiation caused genotoxic effects and DNA damage in earthworms.
Please take action to help stop these antennas in Pacific Grove, California. Sign this petition by Tuesday, August 20, 2013  Read more and sign the petition.
UPDATE: The city Pacific Grove council voted against the butterflies. The petition author writes, "Thank you to the hundreds of supporters on this issue. Sad to say (but not surprised) that all but one of the city council members voted for the cell antennas to be built near one of the rare monarch butterfly overwintering sites in Pacific Grove. AT&T must've made the incentive worth while.The city is supposed to protect the butterfly sanctuary and didn't."